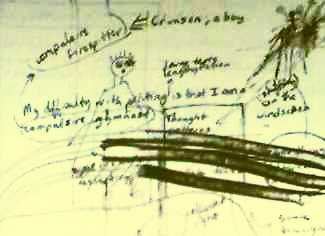 Browsing through my old notebooks, I gathered together the following snippets:
And what if we were to shine our thoughts through a prism?
He would spend an entire afternoon trying to achieve a body posture that precisely reflected the thought patterns flitting through his mind.
Time was defeated, drained out some hole in the sky, where alternatively the void of space was allowed to seep in.
The broadening of the innerscape
The open sky left the earth unprotected.
That vague, endless imperceptibility.
He maintained an interstellar proclivity.
His insides shifted harmoniously with the slowly rotating superstorms of Jupiter. He peered at his earthly surroundings like a secret agent of the galaxy, his purpose long forgotten.
Dissolution Harmonics
And the child opens its arms to embrace the world, expecting the world to embrace it back.
I have destroyed the ground beneath my feet in order to discipline myself to learn how to fly. [Speaking of the
Hurricane Period
.]
Androgynous associations
Space-man Acrobat
Now squint at life as at a blaring sun!
I am strength, and I am weakness, simultaneously.
[Post-
Hurricane Period
:]There is nowhere to turn but backwards towards infancy, despite my continuous longing to march forward. When I finally let go, I feel innocent bliss. I look up to everyone with love and happiness, as if each stranger would offer me a piece of candy. At times, the joy makes it hard to breathe and I sigh an infant's ecstasy. But, where are my parents? The playground is still filled with monsters. The embrace, which every child needs so much, comes from the flicker of a candle's flame, from a ray of sunshine, or the water lapping in the bathtub. And with every embrace, I am pulled back still further towards infancy. It feels as if, in this manner, I can ultimately negate my birth.
It will take me a year perhaps to understand my new personality.
As a rule, there are no bones,
for bones are too rigid.
As a rule, there is no flesh,
for flesh is containment.
As a rule, there are no lies,
for lies cannot span
the stretch of infinity.
Lit candle after candle after candle to proliferate an abundance of light and shadow in the room, the radiant dance of multiplicity.
Beauty coiled about itself and produced Harmony
To find the mark of divinity in a simple act of understanding.
I like to set a limit to the number of buckets of blood I shed for the sake of art.
One must endure pain without suffering.
What is it about Time which holds Wisdom back till it feeds it ripe?
Alternating between the Lion's Roar, a sweet child, fear, and a softly crumbling death by sadness.
A cloudless sky, a looming void over the inhabitants of the city. The rhythms of nature only expressed themselves in soft gusts of invisible wind, derelict air gasping for permanence.
I am drinking in a bar. It is the vessel of a ship which is sinking. It does not matter that the exit leads right out into the street. We are submerged, and we are sinking with ever increasing speed. Tomorrow, when I awake, I will have lost yet another self to the water's depths.
"Do your figures lose body?"
"No," I said. But, he did not seem to react to the answer, upon noticing that he had become a little transparent. In sensing his embarrassment, I averted my eyes.
The ocean tells me I am a lie.
The need to huddle up in a narrow alley, a fissure in the mind.
Time became resonant.
I have kept over two hundred diaries, all in parallel, with zero entries each.
Woke up dancing to the waltz of a dream.
I am a weak yet monstrous creature who sits cuddled about itself in the farthest proximity of a corner, hoping that the walls would let in a little further. And if I were to use my sharp claws to defend myself, I would only resolve, in mid-swing, to puncture my own flesh, and moreover to reopen the freshest wound.
"I do not understand." If only the night air would accept these words and absorb them. Instead, they bounce back lifeless and empty.
At times, a feeling of great sadness overtakes me right before it begins to rain. It is similar to the enormous psychological pressures I sometimes experience just before the break of dawn. The sensitivity of the artist lends no mercy.
It is difficult to live wisely because wisdom tells you that Truth is bound to movement.
Wisdom has found me superfluous and thus fled.
When even a plain white wall has character, looks at you, smiles at you, then you know life has a lot to offer.